It's been awhile since I've gone thrifting, but I managed to go twice over the weekend! Once to Goodwill and once to a local thrift store (don't remember the name). Here's a peek at what I tried on. These first few pieces are from Goodwill:
1.
This is originally Banana Republic from a couple years ago. I love all things mustard yellow, so this came home with me. Price was $4.99.
2.
I don't remember what this brand was. It was a cute top and I liked the pattern, but I don't want to buy any more long-sleeve tops right before the warmer months, so I passed on this.
3. This is originally Gap. Just a simple t-shirt, but I love the stripes and it's something I could probably pair a bunch of ways as the weather is starting to warm up. It was only $2.99, so I jumped on it!
4. I've been on the lookout for some blazers to add to my wardrobe. I don't remember the brand of this one, but it just wasn't doing it for me. As you can see from the second picture, it was much too big around the middle.
5. I did luck out with this blazer. It is a Sonoma, priced at $8.99 it will be a great blazer to wear in the Spring and Summer, especially at work when the air conditioning makes it cooler inside. You can see how I wore this, along with the yellow shirt, here!

(Not sure what my face is doing...)
6. I think this shirt was from J. Crew, or The Loft. I love the stripes, but the weight of the material was a bit too heavy and warm to wear much longer this year. Oh well.
These next pieces are from the local thrift store, next to the movie theater:
1. This blazer is from The Limited. It fits really well, and is in really good shape! There are a few stray threads I need to cut, but other than that, I think this will make a great addition to my work wardrobe! The price was marked $7.99, but all green-tagged items were $0.99 that particular day! You guys, that's like 99% off original price! Score!!
2. I found another blazer, originally from Target. It looked cute on the hanger, but I didn't like the one-button look. So back it went.
3. I think this is either Gap, The Limited, or The Loft. Again, it looked cute on the hanger, but I didn't like how the high collar looked.
4. This shirt was from Gap. I really liked the pattern, but it was way too big around the waist.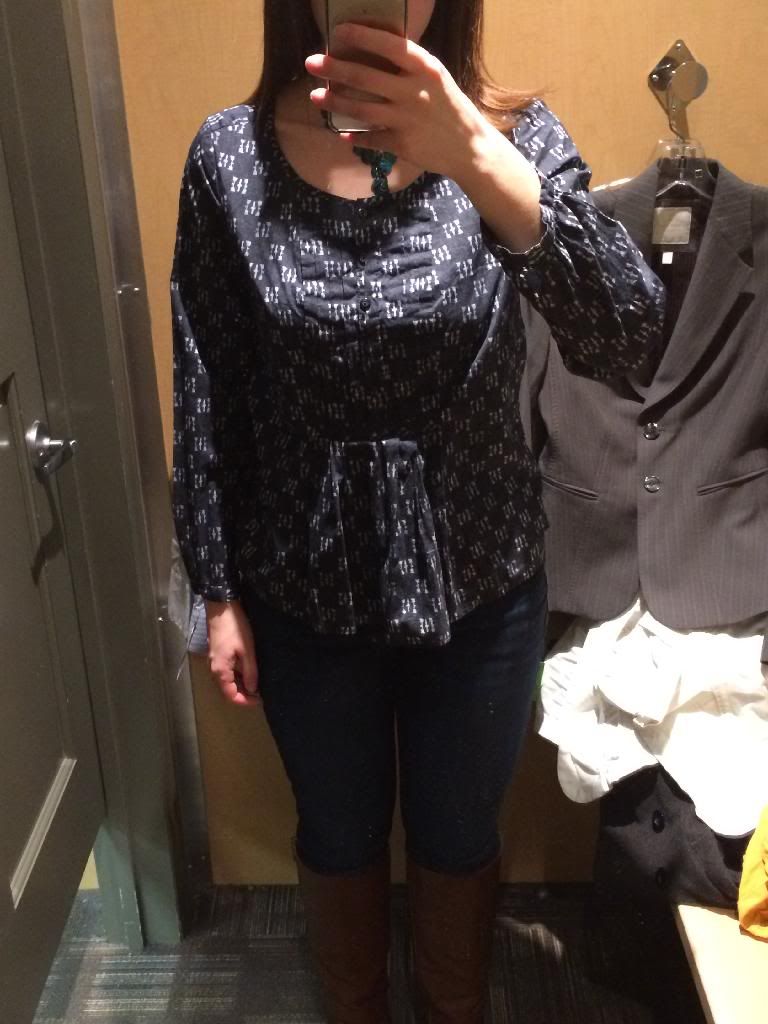 5. I liked the pattern and the colors of this tank top. It fit well too, but I just wasn't feeling it.
6. This was Gap/The Limited/The Loft. It was cute on the hanger, but I really don't like collars that come up this far on my neck. It just feels too restricting.
So in total, I walked away with 4 items for a total of $17.96! Not too bad :) What are some of your favorite thirift-store finds?