It's Friday! Not sure about you, but this has been one long, sort of stressful week. I need my weekend! I'm linking up again with Darci, April, Natasha, and Christina to share my Five on Friday.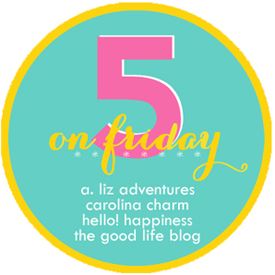 1. You guys, can I talk for a minute about the weather MN has been having?? (And I'm sure this is true all around the country) Monday, we started off the week with a good snow storm, Tuesday and Wednesday we had highs in the 40's, Thursday another winter storm warning, and now the extended forecast shows another Polar Vortex coming next week... what the heck is up with this!! I'm SO ready for winter to be done and spring to come!! I'm really hoping we don't have a late spring again this year with snow storms in May... I remember 2 years ago in 2012, I had all my bridal showers in March right before my wedding and I was wearing dresses with sandals! I wish that could be this year...
2. With this warmer weather, I was able to go outside and walk! It is so hard being cooped up inside all day and I think it's been starting to show with stress/my mood/etc. We get an hour break for lunch every day, and I like to break it up by walking for at least 20-30 minutes and eating lunch for the rest of the time. It feels so good after sitting down all day! Now hopefully all this negative degree crap won't last too long so I can get back out there and enjoy my walks!
3. I was involved in show choir in both high school and college. (no, it's not really like Glee...) Sometimes I miss it, sometimes I think, oh mylanta, I don't know how I lasted as long as I did with all the drama... But tomorrow I'm going down to a local competition with my dad to the finals portion in the evening (and my sister is in the varsity high school group so I get to see her perform!) It's fun once a year to go to a competition and watch groups again, and to support my sister (who is still a baby in my eyes!) :)
4. You guys, my life is so boring right now I can't even come up with 2 more things!! haha ummmm.... Valentine's candy and items are on super sale right now! Nothing beats getting a chocolate covered marshmallow heart for a quarter :)
5. Ah, yes. Two months from today is hubby and my 2-year anniversary!! Crazy to seem we've been married almost 2 years already!